Today is the most important day for all Muslims. Shab-e-Barat is "Wed, Apr 8, 2020 – Thu, Apr 9, 2020" so this day has come every year before 15 days of Ramzan. so in this night, Muslims pray and dua for their mistakes. all the world Muslims go to a mosque and complete Shab e Barat ki namaz for one Allah there is no god but Allah.
On this day Muslims distribute sweets to relatives famils, childer and poor peoples. so peoples call to this day on their own language Pakistan & Indian peoples say "Shab-e-Barat" in turkey country they say "Berat Kandili" in Maly they say "Nisfy Sya'ban" & "Shab-e-Barat".
Shab e Barat Ki Raat Ki Namaz & Nawafil
حضرت محمد (ص) نے فرمایا: "وہ شخص جو 100 رکعت نماز پڑھتا ہے ، 2 ، 2 رکعت نیت پڑھتا ہے اور ہر رکعت 10 مرتبہ سورrah اخلاص کے بعد سورت فاتحہ پڑھتے ہیں اس کا تمام گناہ معاف ہوجائیں گے ، ہر ضرورت پوری ہوجائے گی۔ ، جنت ان کے لئے (حلال) جائز ہے اور جہنم ان کے لئے فقہی (حرام) ہے۔ مسلمان کو اللہ تلہ ، تسبیح تقدیس ، ذکر اور پوری رات قرآن مجید کی تلاوت اور اگلے دن روزہ رکھنا چاہئے۔ جو 15 شعبان المعظم جہنم کی آگ پر روزہ رکھے گا وہ انھیں چھوئے گا نہیں۔ اللہ سب مسلمان کے ل bless برکت عطا فرمائے اور اللہ سبھی مسلمان کو کرنے کے لئے نیک ہدایت دے۔ (آمین)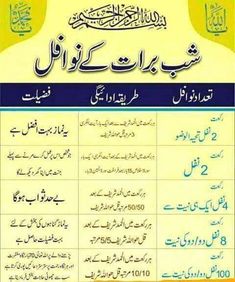 Shab-E-Barat Mubarak Images, Wishes Pic in HD
now download shab e barat  hd images wishes pics to wish to your friends and family members in hd best of wishes for all global Muslims. sometimes we can not meat to other people and how to wish them it batter way to wish to your social friends in a few seconds.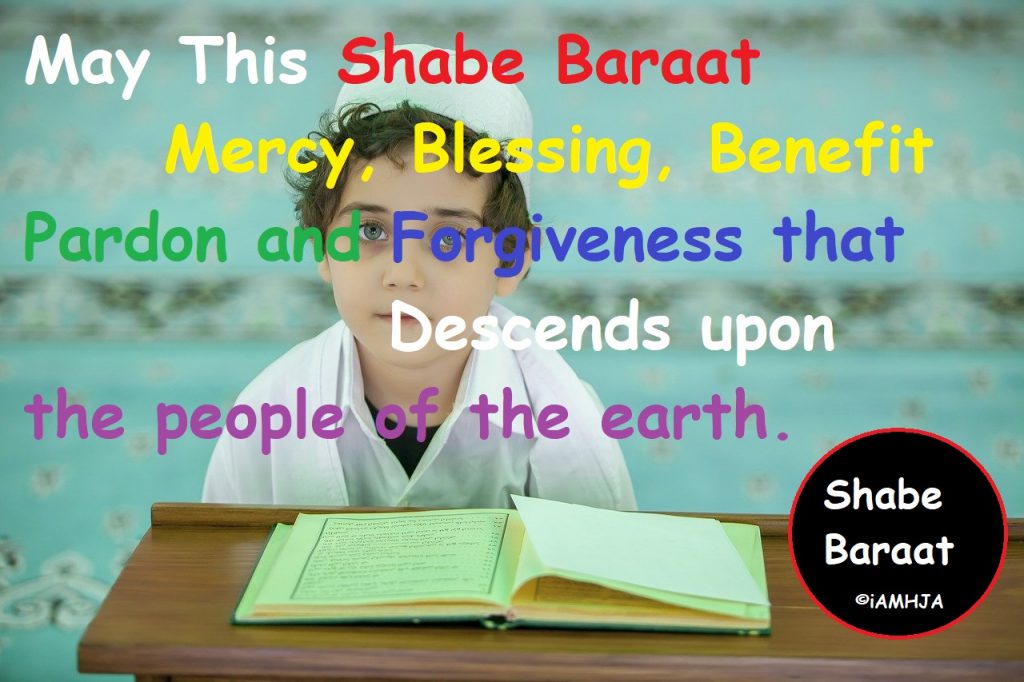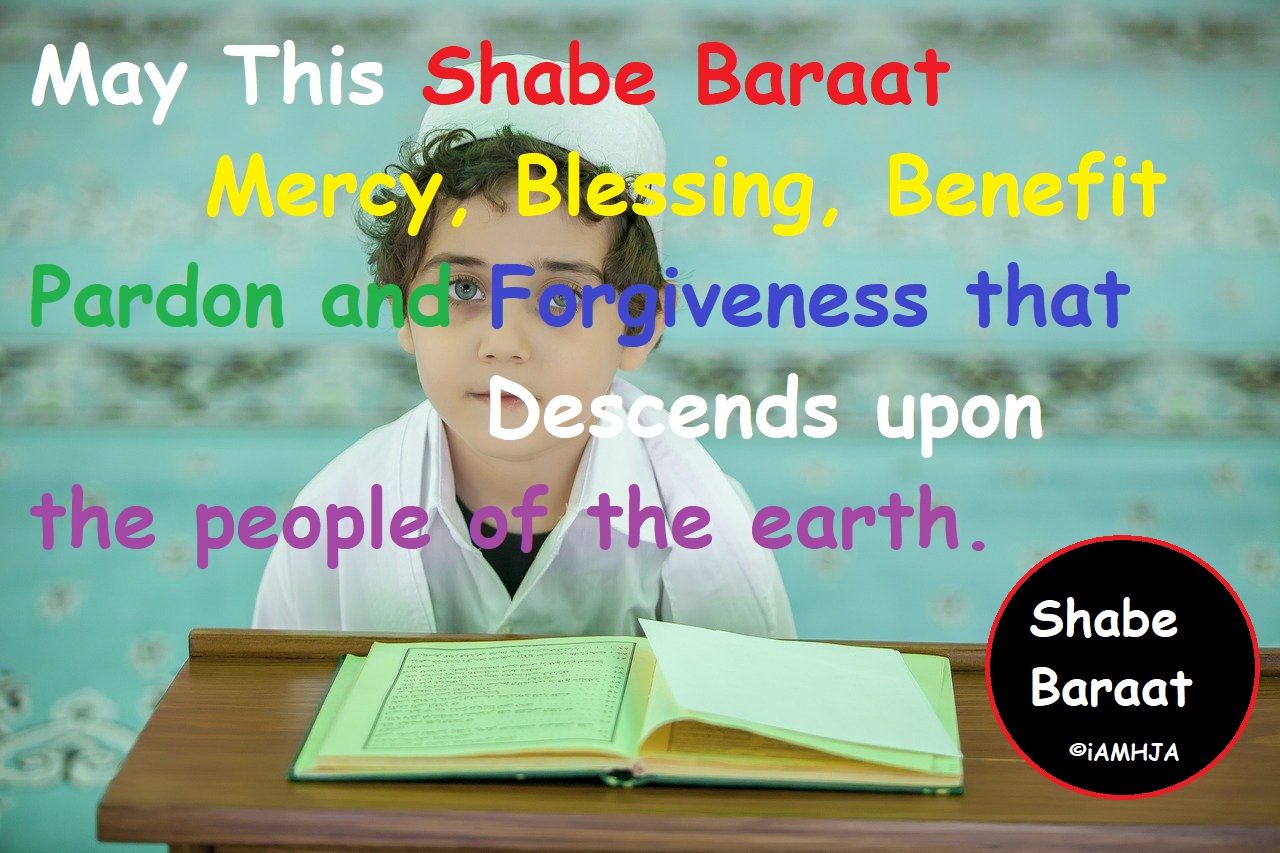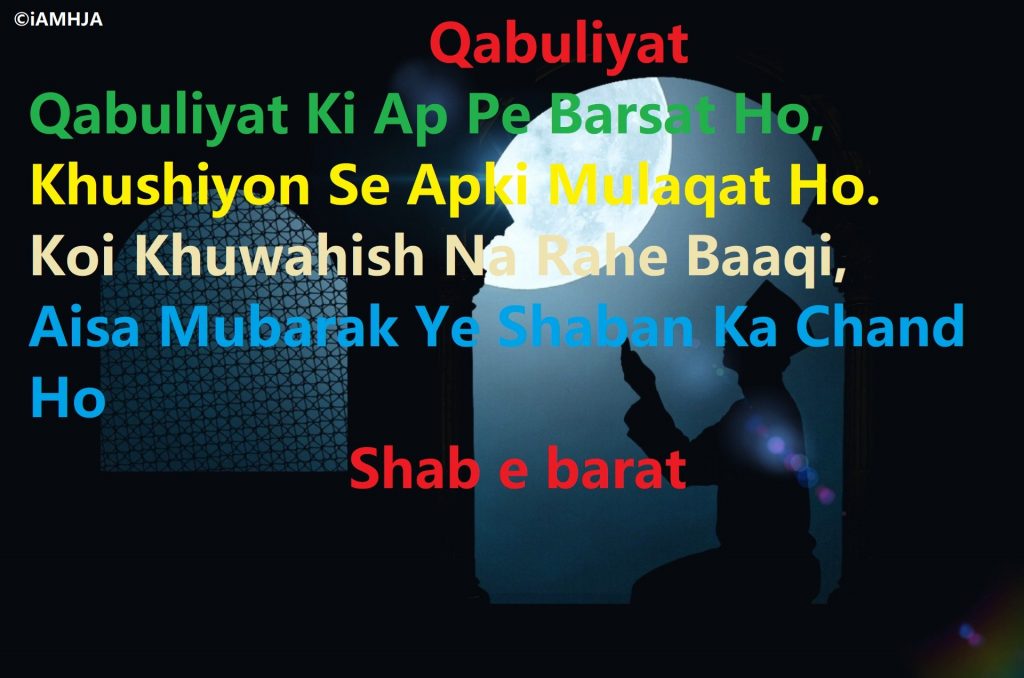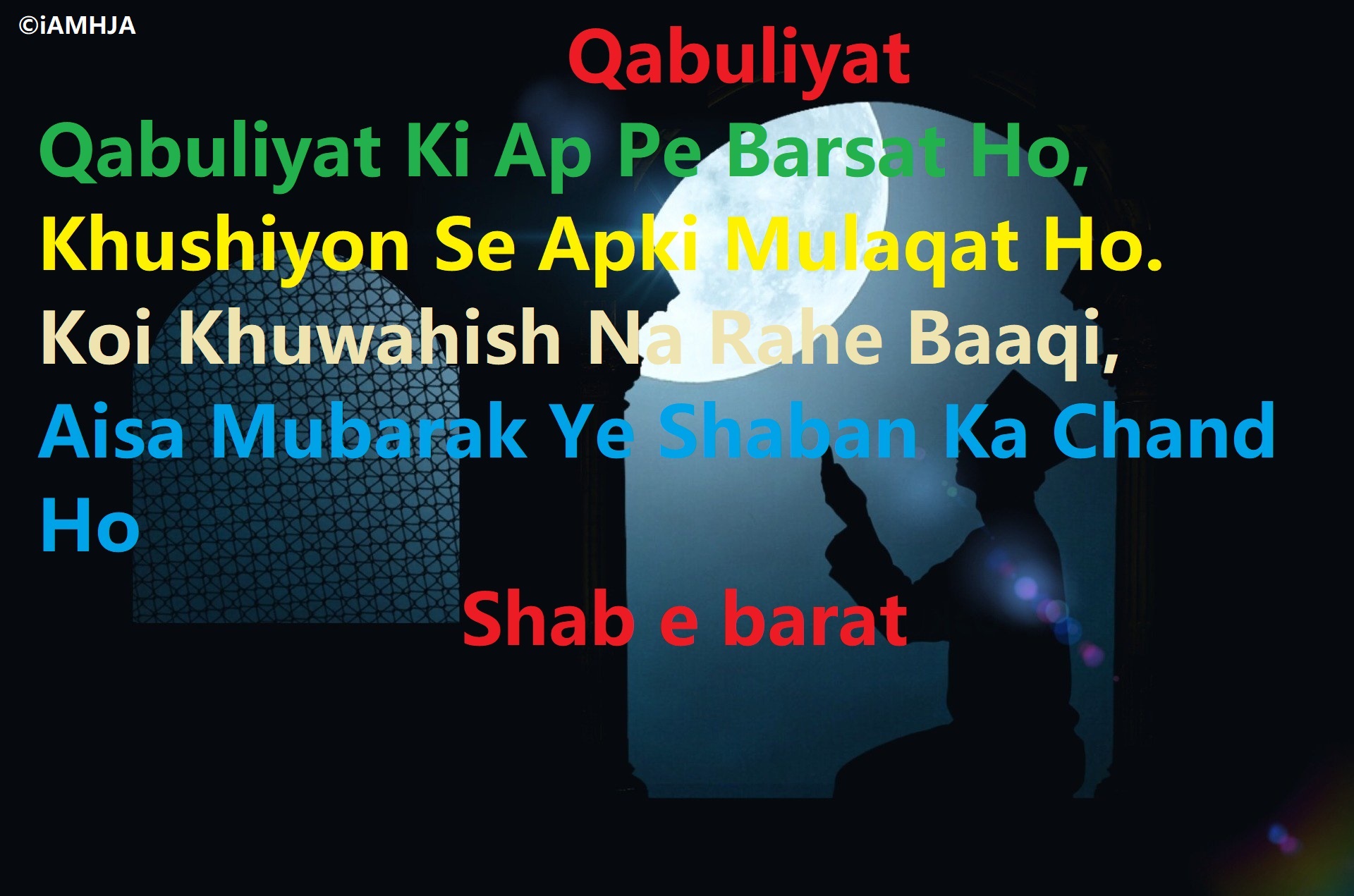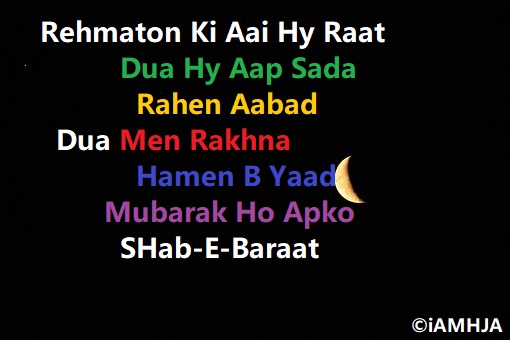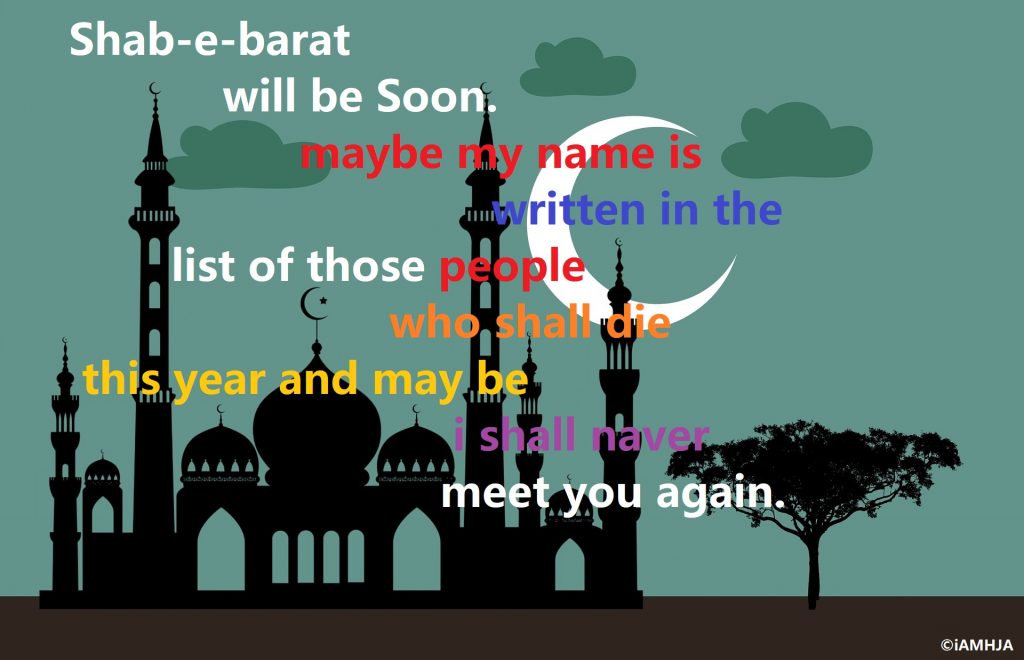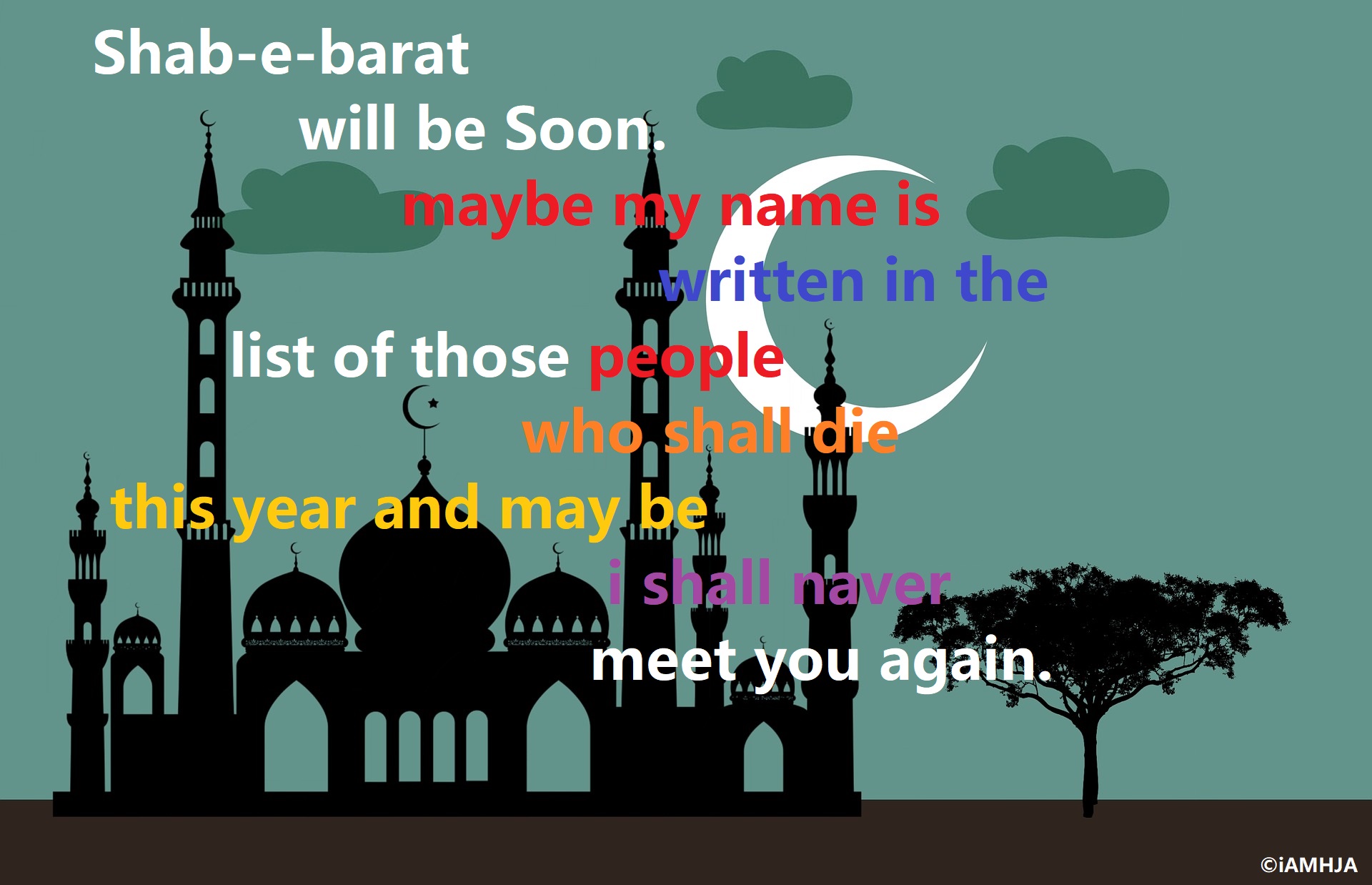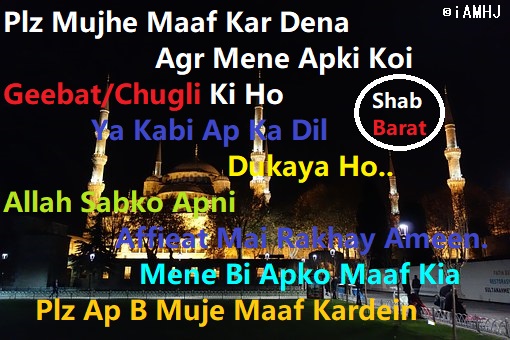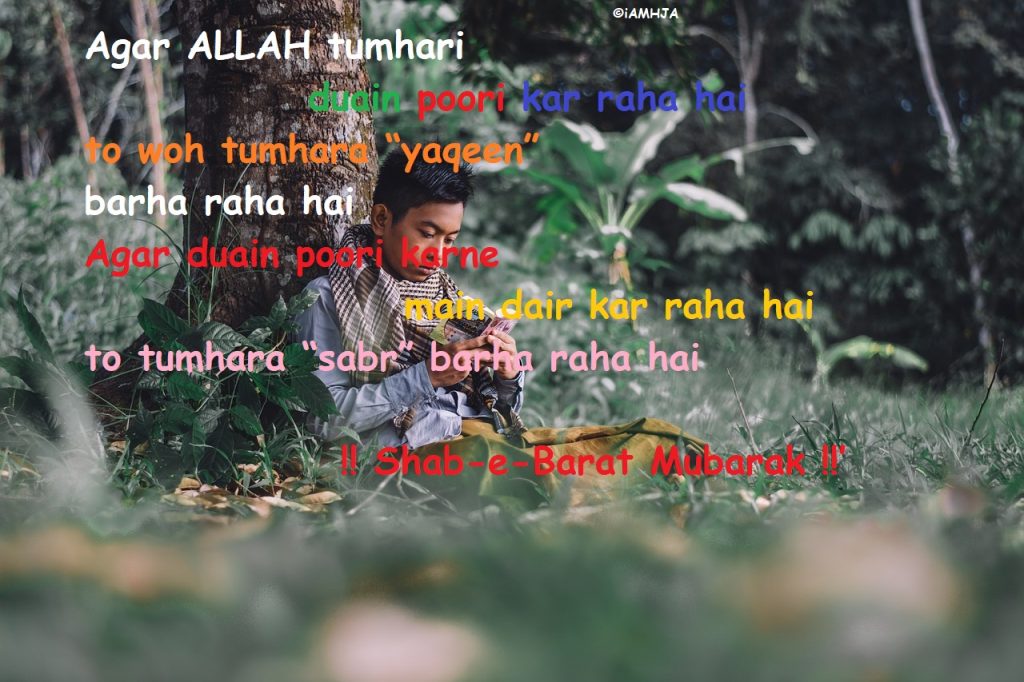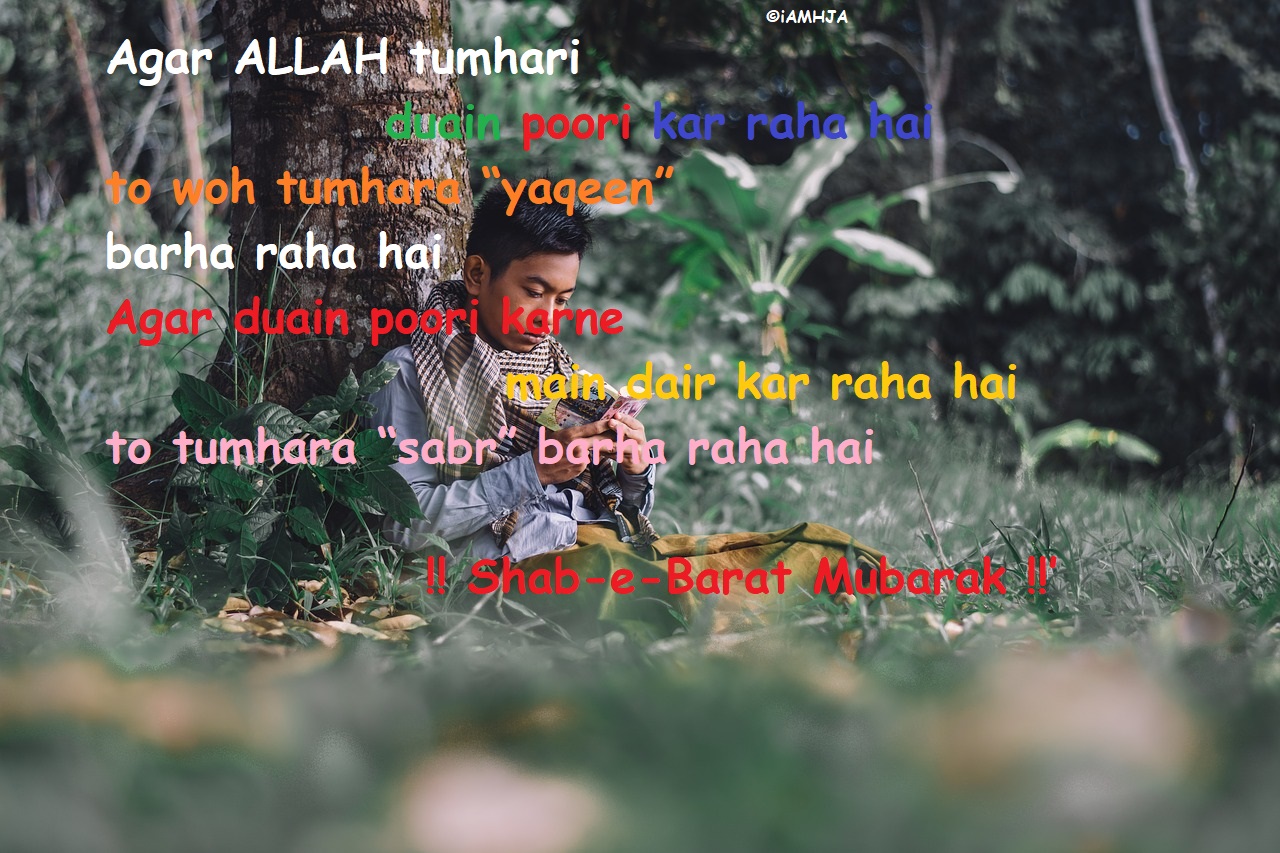 Shab e Barat Mubarak Whatsapp Status
i know how much is important this day and people looking for Shab e Barat status so don,t worry look down below list is ready for you it,s time to "wish" your family and friends on social media accounts. i am collecting big data status which one do you like just copy and share on Whatsapp, Facebook, and many other social media and also remember never miss our hard word credit plz us #iAMHJA or ©iAMHJA so let's begin for Shab e Barat Whatsapp status.
ay mera rab aj ki raat
ma tuj say dua mangta hon
Sahi Tooba ki
Sachy Eman ki
Teri Raza Ki
Ajizi ki Halal Rizq ki
Or marny say pahly tu razi hu
Ameen Sum Ameen Shab e Barat Mubarak©iAMHJA
Share
Shab E Barat Mubarak Whatsapp Status in English
so i know some of my Muslim friends are from other countries like USA, Germany, Canada also many other countries but if you want to wish "Shab e Barat Mubarak Whatsapp status"
in English, so i am collecting big data of status special for you.
Shab E Barat Status In Urdu
can you want to share your status in the Urdu language? then i am also sharing here some status in the Urdu language just copy and share where you want to wish your friends Shab e Barat status Urdu.
Shab E Barat Quotes
it,s very important to wish shab e barat quotes in english so never miss this time if your relatives is not near you so share theme this beautiful shab e barat wishes in English and make their day awesome.
every person do mistake in life if i am do mistake plz forget me also, remember me in your prayers ©iAMHJA
Share
i wish you a Shab e Barat a special night, plz forget my mistakes and remember me in your prayers ©iAMHJA
Share
this night is forgiveness plz forgiven me, and happy Shab e Barat to your family and to you also remember me in our prayer ©iAMHJA
Share
Please Allah, forgive our sins in this Shab e Barat ©iAMHJA
Share
Please Allah, make next year beautiful for me give me success, blessed and also, who is reading this wish Shab
e Barat ©iAMHJA
Share
i am really really sorry to you, if i ignored you, hurt you and teased you. please forgive my all previous mistakes on this Shab E Barat ©iAMHJA
Share
i humbly request for forgiveness during this Shab e Barat and to move forward from my mistakes i humbly request to you plz forgiveness me during this night if i mistake to you forget me Shab E Barat ©iAMHJA
Share
i wish you Shab E Barat plz remember me in your prayers or dua. Allah will shower you with abundant blessings
©iAMHJA
Share
Also Read: Shab E Barat Wishes Pics